Not our first Weather rodeo
We've been here since the beginning.
Flexstone's History
A little background on how we've evolved.
During the leaky-condo crisis of the 1990s in Vancouver, our company experimented with a variety of urethane waterproofing products in order to help with remediation work on leaky condo buildings. Engineers and envelope consultants stipulated urethanes had to be used on sundecks; however, everything we found locally failed to meet our standards and were unpleasant to work with. The available products were solvent-based, thin, difficult to work with and, most importantly, lacked the resilience needed for our climate.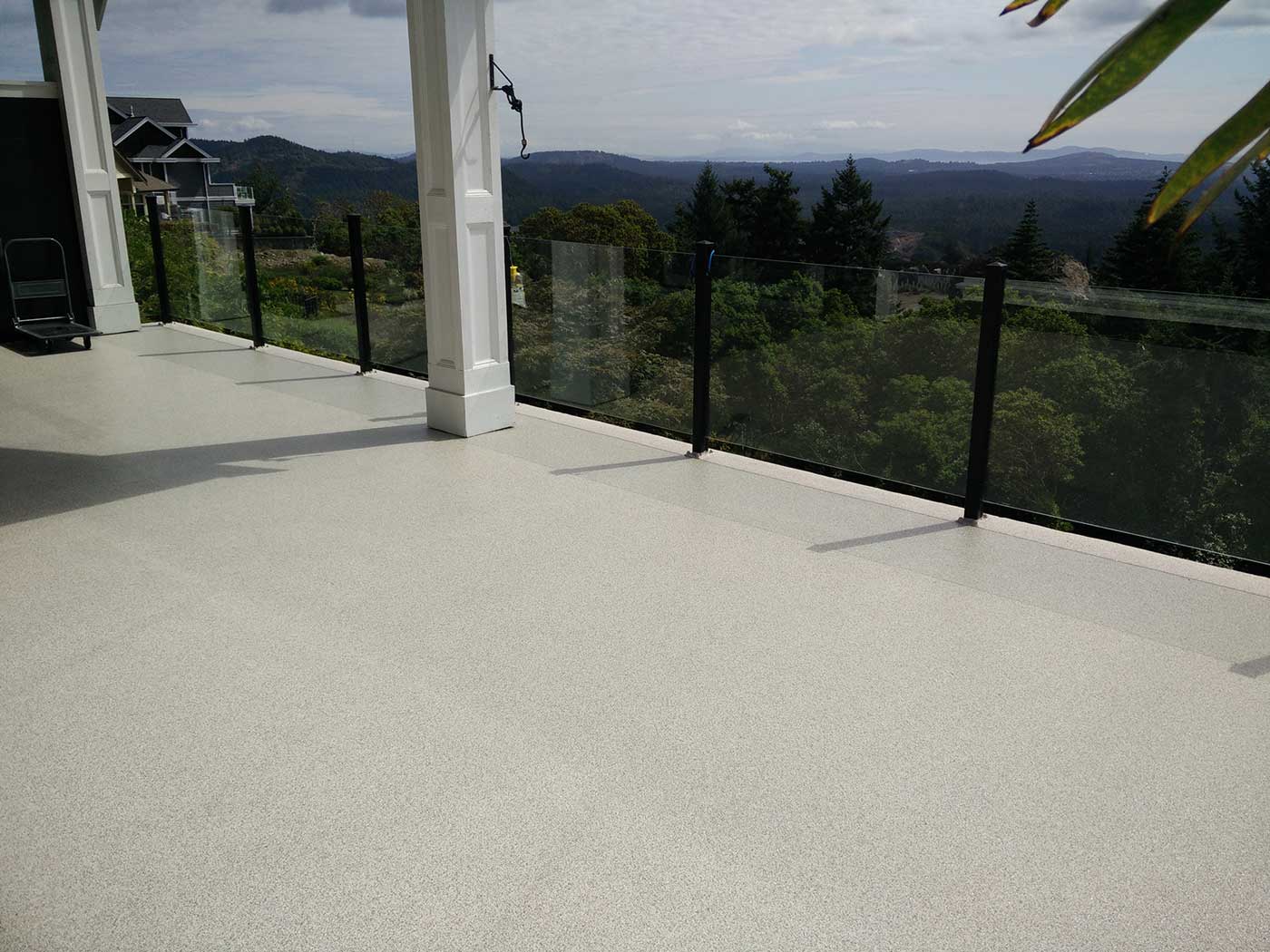 After a search was conducted, we discovered Tufflex, a high-quality manufacturer of premium urethane systems and the first company to develop an odorless water catalyzed urethane (WCU) base coat – this was a game changer. Tufflex was originally designed for ski-resorts, zoos, waterparks and other high-abuse applications – which was a perfect fit for our climate.
Working with Tufflex, Flexstone quickly created and introduced the System-X Textured Stone system and began confidently installing the materials on sundecks and walkways. It was then tested in Canada and obtained CCMC approvals (part of National Bldg. Codes) and the product became known as Flexstone, a niche water-catalyzed odourless (solvent-free) urethane coating. Flexstone is the only approved seamless coating approved for flat roofs as well as decks and it quickly became extremely popular which led to Flexstone Coatings becoming the exclusive Canadian supplier of Tufflex products in 2007.
The company experienced rapid growth across Canada in the following years as dealers were appointed. 30 years later, Tufflex went from being an obscure and niche US product to Flexstone, Canada's premier sundeck waterproofing system and one of the country's fastest-growing waterproofing systems.
Simply put, nothing compares to our WCU (water catalyzed urethane) Tuff base coat, – "THE ONE & ONLY"
Flexstone employs Tufflex materials in all our systems. Tufflex International has over 40 years of experience in manufacturing and delivering high-performance coating solutions formulated for pedestrian, vehicular, and a variety of high-abuse applications like ski-resorts, water parks, and animal enclosures. Tufflex manufactures some of the highest quality urethanes and poly-aspartic membranes in North America and provides top-tier waterproofing protection for a wide array of industrial, residential and commercial applications.
Tufflex products successfully combine toughness and flexibility. Their components provide industry-leading resistance to freeze-thaw cycles, thermal chock, substrate expansion/contraction and UV rays – making their products ideal for Canadian climates. Tufflex continues to innovate and further improve its already impeccable line of membranes.
Several years ago Tufflex became part of the Garland Group of companies.
Flexstone is proud to partner with the best, ensuring that our customers are receiving the highest quality products for their projects.
Rebranding
A refreshed look for the future.
Flexstone has recently undergone a logo and brand refresh with the help of our creative friends at
City Sidewalk Marketing
. We made the decision to help increase our national presence and brand awareness through a more integrated digital marketing strategy. Flexstone has invested in a vastly improved online presence and more intuitive web design to help you, our customers, find the solutions to your problems more efficiently.