Frequently ASked Questions
When it comes to waterproofing, we've got the answers.
Flexstone is a line of premium urethane coatings. The system is comprised of both a thick urethane base coat and a UV stable topcoat system. There are two different systems for the protective top layer. The standard colour coat is a thick, flexible, and durable urethane deck paint (applied over base coat). The standard colour coat is available in 4 colours. The second finish type is a textured stone finish which imitates textured stone but retains its flexibility. The appearance is achieved by applying a thin layer of urethane top-coat, broadcasting a blend of fire-resistant acrylic chips, and finishing with a clear urethane topcoat. See how the system is composed below.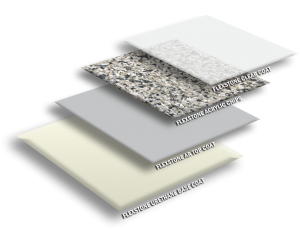 No. Both finishes boast the same lifespan and uv stability. The most important part of the system is our thick base coat, which is required for both finish options. The difference is primarily cosmetic. The standard colour coat is a more popular option for applications where function is the main objective, like vehicle parkades, industrial floors, or flat roofs. The textured stone finish is very luxurious looking and is more popular for residential sundecks, walkways, and roof decks.
Flexstone is entirely eco-friendly for a variety of different reasons. First, the base coat is 100% solvent-free (water catalyzed). This property allows it to be applied over existing coatings, other urethanes can not do this because the solvents will dissolve the membrane below. This feature allows building and homeowners to apply the product over old vinyl, urethane, or fiberglass membranes; keeping roof and deck debris out of our landfills. Secondly, the UV stability and reflective nature of the finish coats save on building energy costs. This means that air conditioning units run for a fraction of the time during warmer months and the seamless insulation properties of the product retain building heat in during the colder months. All components of the Flexstone System have low VOC content so air contanimation is controlled and limited.
Fortunately, Flexstone simply does not wear out for decades, so it does not need to be torn off and re-coated when a client decides to change colours. Say you had a sidewalk grey sundeck done on your home. Several years later you have your house painted brown and want to update your deck colour to the brown textured stone finish. We simply roll out a top coat, broadcast our chips into it, and top off with a clear coat. The base coat stays put and your costs are minimal.
Flexstone is fully approved by CCMC (Canadian Construction Materials Center) for use on flat roofs. Because there is no designation for sundeck approvals in Canada, Flexstone was exposed to the harsh testing associated with flat roof membranes. The product passed with flying colours and is now eligible for any waterproofing application over living space. The product also has the equivalent of these approvals in California, US.
No. Both the textured stone finish and standard colour coat finish have a good amount of traction. The standard colour coat is finished with silica sand which is back-rolled into the top coat. Applicators can simply add more or less to get the amount of traction that makes sense for your job. The textured stone finish is made up of acrylic chips broadcasted into the surface. These are sanded before applying a clear coat. The amount of sanding dictates the coarseness of your surface so homeowners can get the right amount of grit for their needs. These highly customizable options can't be offered by products like vinyl.
In some cases, yes. For applications in which there is no need for waterproofing (ie. basement flooring or garage floors) it is not necessary to apply the base coat. The top coat systems are durable enough to withstand foot and vehicle traffic, but the base coat provides the stability necessary for a 100% waterproof seal. For those applications in which waterproofing is not necessary, costs are significantly lower and the top-coat components will still retain their flexibility and UV stability. On rough or bumpy surfaces like worn-down concrete, the base coat is recommended to level out the surface and restore your concrete.
Flexstone products are warranty varies from 10-20 years depending on traffic / abuse / applications etc. Most Flexstone dealers will offer an extended warranty that covers any problems with workmanship, but regardless, we have your back and are proud to stand by our amazing coatings.
Unlike rolled out products like vinyl decking, repairs to Flexstone are incredibly simple. Say for example, you drop a red-hot charcoal briquette on your Flexstone deck. The coal burns an unsightly scar into your great looking deck. Regardless of what finish you have, the area can simply be sanded, wiped down with a solvent (we recommend xylene), and re-apply your finish coat(s). The deck will look like new. So, lets take a look at a more extreme example. Say you are doing a little carpentry and you accidentally saw through your membrane to the plywood or concrete below. We can simply take a very small amount of base coat, fill the crack or gouge, and apply the finish coat(s) on top.
Flexstone is available in most areas across Canada through our network of qualified Flexstone dealers and applicators. Simply visit our "
Find a Local Dealer
" page and fill in your information. If there is a Flexstone dealer in your area, we will put you in touch with them so they can provide you with a detailed quotation. If you are a contractor interested in handling Flexstone, you can contact us by navigating to the "
Contact Us
" page and clicking on the tab labeled "Contractors and Dealers". Our staff will be happy to help set you up with the training and marketing materials needed.
Flexstone, although relatively simple to apply, is recommended for professional use. Customers with no dealers in their area or do-it-yourself people can install the system themselves. We encourage our customers to watch our videos and study our instructions prior to purchasing materials.